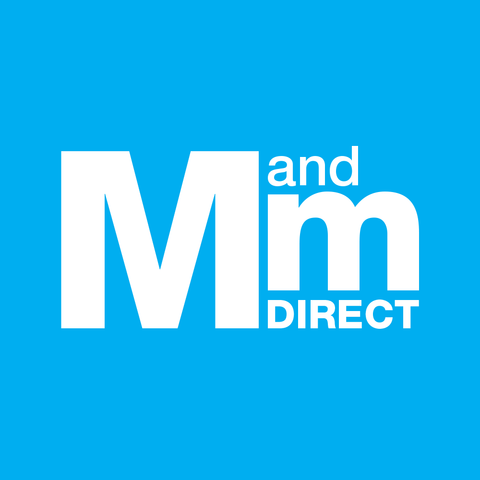 DESCRIPTION
MandMDirect prides itself on its uniqueness and on being able to offer its customers first-class brands at unbeatable prices. Their business model is based on direct purchasing from brands, manufacturers and suppliers. Like their customers, they are constantly on the lookout for bargains. MandMDirect's buyers are constantly scouring the market for high-quality brands and trendy clothing, shoes and accessories. Over the years, they have built close relationships with many companies and now carry a wide selection of favourite brands, from big top brands to up-and-coming labels.
TERMS AND CONDITIONS
MandM Direct DE terms PUBLISHER PROGRAM CONDITIONS Thank you for your interest in the MandM Direct Publisher Program. These Publisher Program Conditions ("Program Conditions") consist of the MandM Direct Publisher Program Requirements (the "Program Requirements") set out below and form part of and are incorporated into the Mcanism publisher network terms that govern your application for and participation in the MandM Direct publisher program operated by Mcanism("Publisher Program/Program"). MandM Direct Publisher Program Requirements By participating in the Publisher Program, you accept and agree to the terms and conditions in these Program Requirements. "MandM Direct," "we," "us," or "our" means MandM Direct, Clinton Road, Leominister, HR6 0SP. "Publisher,", "Company", "you," or "your," means the Publisher applying to join the Program. "Publisher Site" or "Site" means any website(s) and software application(s) including mobile websites, emails, apps etc that you own and operate and link to any MandM Direct websites (including mobile websites)/ MandM Direct inventory ("MandM Direct Site"). We may modify any of these Program Conditions at any time and in our sole discretion by posting a revised version of these Program Conditions and/or Program Requirements and/or a change notice on the Administrator Site or by us or Mcanism sending notice of such modification to you by email to the email address then currently associated with your account. Modifications may include, for example, changes to the Program Requirements and other Program requirements. Modifications will be effective on the date specified in the revised Program Conditions, change notice, or email notification or, if no date is specified, the date that the revised Program Conditions, change notice, or email notification is posted. IF YOU DO NOT AGREE TO ANY OF THESE MODIFICATIONS THEN YOU SHOULD TERMINATE YOUR PARTICIPATION IN THE PUBLISHER PROGRAM. YOUR CONTINUED PARTICIPATION IN THE PROGRAM FOLLOWING THE EFFECTIVE DATE OF ANY MODIFICATION TO THE PROGRAM CONDITIONS WILL CONSTITUTE YOUR BINDING ACCEPTANCE OF THE CHANGE. 1. Program Summary and Enrolment The Program permits Publishers to promote certain travel products available through the MandM Direct Sites ("MandM Direct Products") by displaying to users of Publisher Site(s) ("Users") links, advertisements, and other content that may be provided to Publishers by MandM Direct in its sole discretion via the Publisher Program and enables Publishers to earn commision for certain Qualifying Transactions. How to Enrol. To begin the Publisher enrolment process you must be invited by us to join the Publisher Program, such invitation will contain details of how to complete an application to the Program ("Program Application") to us through the Administrator Site. You will ensure that the information in your Program Application and otherwise associated with your account, including but not limited to your email address and other contact information is at all times complete and accurate. We may send any notifications, approvals, and/or other communications related to the Program to the email address then-currently associated with your Program account. You will be deemed to have received all notifications, approvals, and other communications sent to that email address, even if the email address associated with your account is no longer current. Evaluation of Your Application. We will evaluate your Program Application and notify you of your acceptance or rejection. We may reject your Program Application in our sole discretion for any or no reason. For example, we may determine that you are ineligible to participate or that your site is unsuitable for the Program because it includes any objectionable content or that you are engaged in conduct prohibited by these Program Conditions. If we reject your Program Application, you are welcome to reapply for participation in the Program at any time subsequently. 2. Publisher Site Restrictions. At all times during your participation in the Program, you will ensure that your Site(s) do not: (a) depict or promote violence or sexually explicit material; (b) depict or promote any material that is fraudulent, defamatory or obscene; (c) promote illegal activities or unlawful discrimination of any kind; (d) promote or contain any materials which infringe or assist others to infringe the intellectual property rights of others; (e) contain any images or content that is in any way unlawful, harmful, threatening, defamatory, obscene, harassing or racially, ethically or otherwise objectionable; (f) otherwise violate any law and regulation; (g) contain any spyware, malware, virus, worm, trojan horse, or other subversive, malicious, or harmful code, or any application not expressly and knowingly authorized by Users prior to being downloaded or installed on their computer or other device; or (h) copy or resemble the look and feel of MandM Direct or create an impression that your Site(s) are part of MandM Direct or any Related Company of MandM Direct. If your Site(s) are not in compliance with any of these requirements (and/or any other terms or conditions of these Program Requirements), we may, in our sole discretion and without limiting any other right or remedy to which we may be entitled: (a) remove the Publisher Site(s) from the Program or require PHG to do so; and (b) require repayment of any payments made to you while your Site was non-compliant or require PHG to withhold sums and/or require repayments from you. 3. Responsibilities Regarding Your Site. You are solely responsible for the Publisher Site(s) including all content and other material that appears on the Site(s) 4. Restricted and Prohibited Conduct. Without limiting the generality of these Program Requirements, You agree that: (a) You will not use any link that sends Users indirectly to the MandM Direct Site via an intermediate site or webpage. (b) You will not use any other method that impedes Users from determining which site or application they click. (c) You will not take any action that could reasonably confuse Users regarding: (i) our relationship with you; or (ii) the website on which any searching or purchasing from MandM Direct. (d) You will not mislead or misrepresent to Users as to the origin, affiliation or nature of the Publisher Site(s), products or services. (e) You will not use any MandM Direct Brands in meta-tags on any website that you own or operate. You will not use, register, license or control any domain name containing any MandM Direct Brand or any misspellings or variants of, or substantially similar names or marks to, an MandM Direct Brand. (f) You will not take any action to register or otherwise interfere with our interests in MandM Direct Marks. (g) You will not display or otherwise use any trade name, trade mark, service mark, logo or other similar indicia of identity or source of any third party supplier in connection with the display of any consumer brands unless you have obtained from that brand supplier the specific right to do so. (h) You will not attempt to artificially increase your Marketing Fees in any way (i) You will not collect, use, or disclose personal information under or in relation to the Publisher Program unless you have obtained all relevant consents to do so including that you will not knowingly collect, use, or disclose personal information from children who are under sixteen (16) years old. (j) You will not request, obtain, store, cache, or otherwise use any account information used by our customers in connection with any MandM Direct Site. (k) Coupons and Vouchers. We do not offer the functionality for any voucher codes to be used on our site and reserve the right to ask any unsolicited voucher codes from being advertised by our affiliates. Any affiliates found to be breaking these terms and conditions will be removed from the MandM Direct affiliate programme and any due commissions set to zero. All pending sales will also be deleted. In addition, MandM Direct Limited reserves the right to take legal action to protect its rights and obligations. (l) Keyword Bidding. Without MandM Direct prior written approval you may not bid on, including for preferential placement in any search engine or other paid advertising, or otherwise use to drive consumers to your websites or businesses the names or trademark of MandM Direct including "M and M Direct", "MandM", "MandM Direct", "Mandmdirect", "Mandmdirect.com", "Mandmdirect.co.uk", "mm", "mandm", "mandmsports", "mmsprts", or any misspellings or variants of, or substantially similar names. No affiliates are allowed to have adverts appear for searches on these terms. To avoid broad match issues please include restricted terms as negative phrase keywords in all your PPC campaigns for MandM Direct. Affiliates found bidding on restricted terms or obtaining misspellings of the mandmdirect.com URL may have pending transactions cancelled or face temporary/ permanent suspension from the programme Please add these keywords to your negative keyword list to prevent them displaying in error. Directly linking through to the mandmdirect.com site is forbidden. 5. You may not directly or indirectly use, display or refer to any mark, URL, trade name, trademark, logo, or branding of MandM Direct, any publisher of MandM Direct or any third party (including any misspelling or substantially similar or confusingly similar version thereof), in any manner whatsoever (including in any meta-tags, search engine advertising, marketing or optimization, any other online or offline marketing or advertising, press releases, etc.) without the prior written approval of MandM Direct or the applicable third party, as the case may be. 6. Branding All Publishers who join the programme must adhere to the following policy; use of brand names: 'Superdry', 'Fred Perry', 'Havaianas', 'Lyle & Scott' and 'Animal' is strictly prohibited in any context, this includes, but is not limited to the referral to the brands via Copy, Title Tags, Meta-descriptions or URL's. It is MandM Direct policy to respect strict brand guidelines and act to suspend any associated publishers from the programme who breach these rules. You are not permitted to change any copy or content supplied by mandmdirect.com, unless consent is given. Banners are designed specifically for the affiliate programme, and are updated regularly. If these banners do not fit in with your site designed, bespoke banners can be created by our in-house creative team. You may create your own banners; however these banners need to be submitted to mandmdirect.com for approval. Please do not use a banner until you have received sign-off from mandmdirect.com. MandM Direct is actively working to prevent email 'spam' and therefore you're not permitted to send any unsolicited email ("spam") under this affiliate programme. This is extended to include all forms of spam including blog comment spamming. 7. Publicity You agree that you will not release any publicity, advertisement, news release, or public announcement, regarding any aspect of your participation in the Publisher Program or the relationship between Publisher and MandM Direct without MandM Direct' prior written approval. 8. Payout Information Payouts will only be available when the company has your current address information as well as accounting details. Payments will be available the month or period after they accrue. For any disputes as to payments, the company must be notified within thirty days of your receipt of the payment. We will review each dispute notification as well as the underlying payment transaction to which it is related. Disputes filed after thirty days of payment will not be addressed. Reasons for commissions being declined: · Order Cancelled · Item was returned · Customer failed credit check · Breach of programme terms and conditions · Duplicate Order · Item was out of stock · Other – discount codes not provided via Affiliate Channel. We reserve the right to decline any invoices that haven't been issued with 180 days of the campaign end date. 9. Termination Upon any termination of your participation in the Program for any reason: (1) you shall be entitled only to those unpaid Marketing Fees, if valid, earned by you on or prior to the date of termination; (2) you will not be entitled to Marketing Fees with respect to any amount of referrals delivered after the date of termination; No termination of your participation in the Program will relieve either party for any liability for any breach of, or liability accruing prior to termination.
PRICING
| Type | Countries | Device groups | Event ID | Payout |
| --- | --- | --- | --- | --- |
| sale | Germany | Android, iOS, Desktop | MandM Direct DE - Default | 80.00% |
DETAILS
| | |
| --- | --- |
| Advertiser | MandMDirect Ltd |
| Countries | Germany |
| Start Date | 13 October 2020 |
| End Date | Hopefully never. |
TRACKING
| | |
| --- | --- |
| Deeplinking | Enabled |
| Cookie expiration | 30 days |
ADVERTISEMENTS
| Type | Count |
| --- | --- |
| Text Links | 1 |
| Banners | 0 |
| Feeds | 0 |
| Rich Media | 0 |
| Vouchers | 0 |